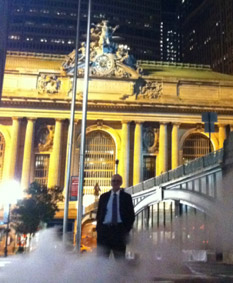 Grady Means is a retired American business executive and government official, who now writes and develops new businesses. A great deal of his writing is drawn from his business and political experience.
He was born in California in 1946, but spent his childhood in Oklahoma and Kansas before retuning to Southern California in 1955 to finish grammar school (St. Charles elementary) and high school (Notre Dame High School). He attended Stanford University on athletic and academic scholarships and graduated with undergraduate and graduate degrees in engineering and economics.
While attending Stanford, he worked as a systems engineer for Northrop Corporation on the F5/T38, the 747 fuselage, autonomous target drones, and the Apollo spacecraft recovery programs. He also worked as a quality control engineer at the Fairchild Camera and Instrument semiconductor plant, one of the first Silicon Valley chip manufacturers.
After Stanford, he served in government as an economist in the Office of the Secretary (Elliott Richardson and Cap Weinberger) of the U.S. Department of Health, Education, and Welfare, focusing on improving services to the poor and disadvantaged through building more effective labor and welfare programs, as well as working on health care policy and helping write and implement the HMO Act of 1973. Later, he served in the White House as Assistant to Vice President Nelson Rockefeller, and led the Food and Nutrition Task Force to reform the Food Stamp program, served as White House oversight to the National Health Insurance Experiment, chaired working groups on environmental protection and civil rights, and helped draft the bicentennial State of the Union Message of 1976.
In the private sector, he joined with the former Under Secretary of HEW and California State Assemblyman, Jack Veneman to form a Health Care and Public Policy consulting firm in San Francisco, Veneman Associates, and to launch a political campaign to run Veneman for Lieutenant Governor of California.
Returning to the East Coast, he lived for 35 years in New York and Washington, D.C.  He formed a corporate strategy consulting firm, SAGE Associates, with former HEW colleagues Richard Darman and James Edwards.
In 1985 he sold SAGE Associates to Coopers and Lybrand, and began to build the business strategy consulting practice for that Firm. In that capacity he created and wrote the Annual Reports on the World-Wide Economic and Business Environment, which led to consulting to a wide range of Fortune 500 companies on their global strategies. The reports also caught the attention of the leadership of numerous countries transitioning to democracy and stronger capital markets. In the late 1980's and early 1990's, he led the privatization of state assets for Chile, Argentina, Brazil, Venezuela, countries in Eastern Europe, and elsewhere. In many cases, these revitalized capital markets set the stage for economic stabilization, an emerging middle class, and sustained democracy (Chile has been a strong example). He was appointed Chairman of the Coopers and Lybrand consulting joint ventures in Latin America to lead these transitions.
In the late 1990's he led the opposition to the Coopers and Lybrand merger with Price Waterhouse, but, subsequently, remained with the new Firm and led both the merged PriceWaterhouseCoopers global corporate strategy consulting business and the government consulting business, each of which separately earned over $1 billion in annual revenue and each employed over 5000 professional consultants.
Books: Grady wrote MetaCapitalism, one of the highest selling business-to-business e-business books (half a million copies and reprinted in eight languages) and Wisdom of the CEO, a best selling book on management. He has also published books on religion and politics, The New Enlightenment, A Search for Global Civilization, Peace, and Spiritual Growth in the 21st Century; retirement, ENDGAME, Poetry of Retirement; and coming of age in the 21st century, The Adventures of Felix the Flamingo.
Having retired after the sale of the PwC consulting businesses to IBM in 2002, he now writes books and political commentary, as well as managing start-up businesses. Most recently he has been awarded three U.S. patents for drone control systems, as part of a new autonomous drone business he is developing. A great deal of his current time is devoted to promoting businesses and public policies supporting disease prevention, healthy food, and regenerative farming.
His community service has included volunteer boards such as the Washington Performing Arts Society, the Madeira School, and Jesuit Volunteers International, preparing/serving meals for AIDS victims through the Knights of Malta, math and science tutoring for minority students in East Palo Alto, and community building with PUSH EXCEL and Communities in Schools in Chicago and New York.
He is married (widowed) with two children, both Stanford graduates. He enjoys traveling, offshore sailing, hiking, and exploring America on his motorcycle.
His books and articles range from U.S. politics, foreign policy, government management, corporate business strategy and management, health care policy, food/nutrition/disease prevention/regenerative farming, religion, technology, retirement, and life. He has spoken and lectured worldwide on each of these subjects.